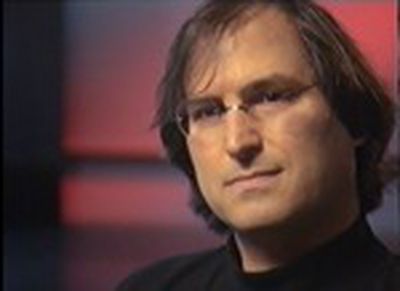 In 1995, before Steve Jobs returned to Apple, he sat down with Bob Cringely for an hour-long interview during the making of the Triumph of the Nerds TV series. Roughly 10 minutes of the interview was used in the show, but the rest of the historic interview was lost during shipping.
After Steve Jobs passed away in October, Triumph of the Nerds director Paul Sen decided to try and find a copy of interview, one Bob Cringely called "the best TV interview Steve Jobs ever gave". Sen found a VHS copy of the interview in his garage, and, after extensive restoration, the full-length interview is going to appear for a limited engagement in a number of theaters across the country.

Of all the reader suggestions for what I should do with my little film Steve Jobs — The Lost Interview, not one involved showing the movie in theaters. Yet that was the first thing that came to my mind. How old media-like of me and how new media-like of you. So we're opening November 16th for a short run in about 20 U.S. theaters. These are mainly Landmark Theaters, but some others are now coming on and we've even had inquiries from Europe and Asia (keep them coming, please). The idea came to me late at night so I e-mailed Landmark owner Mark Cuban who replied in five minutes. proving insomnia has its virtues.
Cringely believes seeing a movie in a theater is a social experience, one that isn't "the same [as] watching on YouTube". He does hint that the show will eventually make its way online as well.
The movie will run on November 16th and 17th in most cities, with a longer run in Jobs' hometown of Palo Alto.