Mark Zuckerberg Discusses Steve Jobs' Influence on Facebook
Much has been made of the apparently tense relationship between Apple and Facebook, sparked in large part by the spat over Facebook integration in Apple's Ping social networking service last year. According to one report, the companies have also faced over such topics as Apple's desire for systemwide Facebook integration in iOS 4 and Facebook's plans for tablet platforms.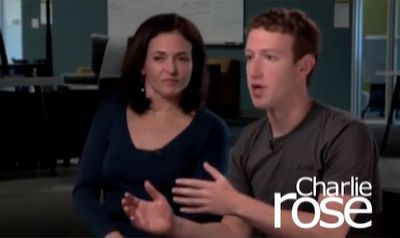 But in a new interview with Charlie Rose set to air on PBS tonight, Facebook founder Mark Zuckerberg reveals (transcript from AllThingsD) how he was mentored by Steve Jobs, who advised Zuckerberg about building high-quality teams and maintaining a sharp focus on Facebook's products.
Mark Zuckerberg: Oh, I don't know. I mean, he — he's amazing. He was amazing. I mean, he — I had a lot of questions for him on –

Charlie Rose: Like what?

Mark Zuckerberg: How to build a team around you, right, that's focused on building as high quality and good things as you are. How to keep an organization focused, right, when I think the tendency for larger companies is to try to fray and go into all these different areas. Yeah, I mean a lot just on the aesthetics and kind of mission orientation of companies. I mean, Apple is a company that is so focused on just building products that — for their customers and their users. And — and that's like — it's such a deep part of their mission is build these beautiful products for their users. And I think we connected a lot on this level of, okay, Facebook has this mission that's really more than just trying to build a company, right, that has a market cap or a value. It's like we're trying to do this thing in the world. And I don't know, a lot of it I just think we connected on that level.
Apple is of course famous for its laser-like focus on a relatively small number of products, offering greater clarity to customers and users while also ensuring that the company's employees do not become spread too thin or stray too far from the overall objectives.
In the wake of Steve Jobs' passing, the extent to which he served as a mentor to other high-profile industry personalities has become more clear, as evidenced by an on again-off again relationship with Google executives Larry Page and Sergey Brin and a connection with Salesforce.com founder Marc Benioff that ultimately resulted in Benioff giving Jobs and Apple the "App Store" trademark and URL free of charge out of gratitude.
Jobs' advice to Zuckerberg parallels some of the advice he gave to Page, shared in Walter Isaacon's biography of Jobs, in which he told Page to figure out what five things Google wanted to focus on "when it grows up". Seeing Google straying dangerously toward a bloated array of apps and services, Jobs warned Page about the possibility of turning into the next Microsoft, with an assortment of peripheral products dragging the company away from its core areas of focus and expertise.