Some AT&T Users Seeing Much Improved 3G Speeds with iPhone 4S
One of the new features of the iPhone 4S has been the faster HSDPA (14.4Mbps) data support for GSM networks. This theoretically allows the iPhone 4S to see much faster download speeds when on the right mobile carrier.
In the U.S., AT&T is the only network that could take advantage of the advanced capabilities of the new iPhone 4S communications chip, though there had been some debate about how much of an improvement users might see on AT&T's network. AT&T is purposefully vague about how fast their network can run, and the rollout for the faster speeds remains limited.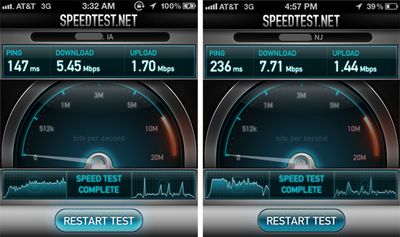 Two previous iPhone 4 users have emailed us with speed results that show significant improvements with their new iPhone 4S. The first reader located in New Jersey (image right) was able to obtain 7.71 Mbps down. He reports previous speeds on his iPhone for in the 1-2 Mbps range. Another reader in Iowa (image left) shows speeds up to 5.45 Mbps. He had only previously seen as high as 4 Mbps on his iPhone 4.
The improvements may only be seen in very specific geographic areas depending on AT&T's network support. Others have seen no significant change in their network speeds after upgrading from the 4 to 4S.
AT&T has even been calling this faster HSDPA support "4G", though there is some debate on the correctness of that term. Still, AT&T's present network is capable of much faster speeds than both Sprint's and Verizon's.