Apple's Japanese Site Outs iPhone 4S with October 14th Launch
Apple has prematurely updated its Japanese retail store sites, disclosing that the iPhone 4S will launch in that country at 8:00 AM on October 14th.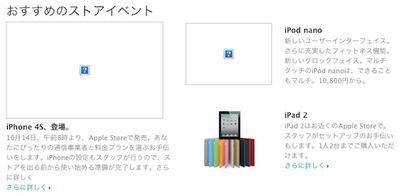 The site appears to also reveal an updated iPod nano, although images are not yet live. The description of the iPod nano includes references to a new user interface, improvements to fitness functions, and a new clock face. Pricing also appears to begin at 10,800 yen, down from the current 13,800 yen.
Update: As noted by 9to5Mac, images for the iPhone 4S in black and white have also been prematurely posted to Apple's site. The iPhone 4S images appear identical to the CDMA iPhone 4.