Adobe Preparing to Launch Six New Creativity Apps for Tablets
Adobe today announced a new cloud-based initiative, with content creation for tablet devices playing an integral role in the effort. As part of that initiative, Adobe will be releasing six new tablet apps to allow users to easily and elegantly design and edit their content.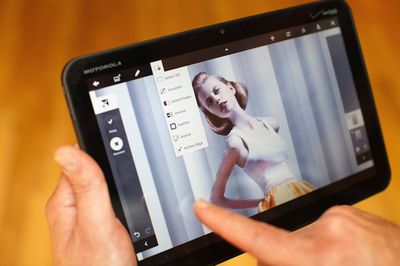 Adobe Photoshop Touch
The new tablet apps are being released for both Android tablets and the iPad, with the Android apps set to launch next month. Unfortunately for iPad users, Adobe does not yet appear to have a release date for the iOS versions of the new apps for that platform, stating only that an announcement on availability is scheduled for "early 2012".
Inspired by Adobe Creative Suite® software, these stunning new apps bring professional-level creativity to millions of tablet users. The apps address multiple areas of the creative process: image editing; ideation; sketching; mood boards; website and mobile app prototyping; and presenting finished work. They are headlined by Adobe Photoshop® Touch, a groundbreaking app that brings the legendary creative and image-editing power of Photoshop to tablet devices for the first time.

Available soon as standalone apps, Adobe Touch Apps are essential components of Adobe Creative Cloud, a major new company initiative also announced today (see separate release). Adobe Creative Cloud will become a worldwide hub for creativity, where millions can access desktop and tablet applications, find essential creative services, and share their best work. Files created via Adobe Touch Apps can be shared, viewed across devices or transferred into Adobe Creative Suite software for further refinement – key features of Adobe's vision for the Creative Cloud.
The six apps, which will carry "introductory pricing" of $9.99 each, include:
- Adobe Photoshop Touch: Image editing and transformation.
- Adobe Collage: Photo importing and drawing tools for creating image collages.
- Adobe Debut: Presentation software for Creative Suite files.
- Adobe Ideas: Vector-based drawing tools. (Released for iPad last year and currently priced at $5.99.)
- Adobe Kuler: Color theme generation and exploration.
- Adobe Proto: Prototyping tools for websites and mobile apps.