Facebook iPad App Developer Quits After Repeated Launch Delays
Business Insider noticed earlier today that Facebook engineer Jeff Verkoeyen, who has been responsible for development of the social networking company's iPad application since the beginning of this year, has left his position and taken a job at Google.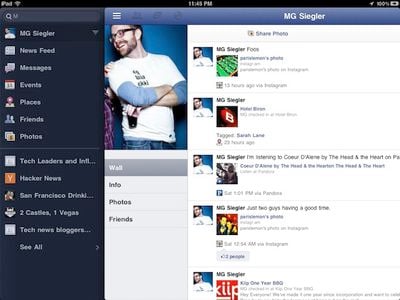 Facebook's iPad app (Source: TechCrunch)
In a
blog post
(apparently down for the moment due to high traffic), Verkeoyen laid out his personal complaints about Facebook and the status of the iPad application, noting that the application has been feature-complete since May but has yet to see a release and may never see the light of day. Verkoeyen has apparently since edited the post to remove his original thoughts on the iPad app.
Verkoeyen wrote on his blog today that he was the lead engineer on the Facebook iPad app back in January. He put a ton of time into the app.

It was feature-complete back in May, he writes, but Facebook kept pushing its release out another two weeks, then another. (Feature-complete doesn't necessarily mean "finished," but it's usually the last stage before a public beta test.)

Now, he thinks it "may never be released."
Verkoeyen did not offer any details on the reasons behind the repeated delays.
The New York Times reported back in June that a Facebook app for iPad would be released "in coming weeks". In late July, an iPad version of the existing app for iPhone was discovered inside the iPhone app, accessible through a tweak, but Facebook quickly disabled access to the iPad-specific interface through that mechanism. Some had hoped for a launch at the company's F8 conference last week, but an iPad app was not a part of Facebook's announcements at the event.