T-Mobile USA 'Not Going to Get the iPhone 5 This Year'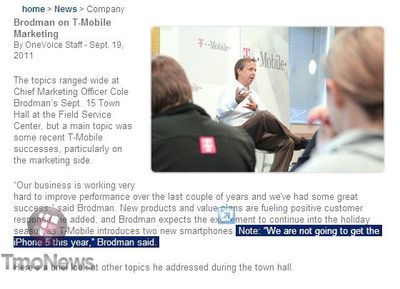 TmoNews reports that it has received an image of an internal news posting from T-Mobile USA sharing word from Chief Marketing Officer Cole Brodman that the carrier will not be offering the iPhone 5 this year. Brodman's comment apparently came as part of a September 15th company town hall meeting.
"Our business is working very hard to improve performance over the last couple of years and we've had some great success," said Brodman. New products and value plans are fueling customer response, he added, and Brodman expects the excitement to continue into the holiday season as T-Mobile introduces two new smartphones. Note: "We are not going to get the iPhone 5 this year," Brodman said.
Brodman's comment does not eliminate the possibility of T-Mobile offering the iPhone 5 at some point in the future, but it seems that the carrier will not be a launch partner for the device.
Several mainstream media reports have claimed that Sprint will become the third major U.S. carrier to offer the iPhone with the debut of the iPhone 5 next month, but the fate of the iPhone on T-Mobile USA has been less clear. Despite a few claims of a T-Mobile iPhone coming this year and evidence of prototypes for testing on the carrier's network, there had yet to be any solid reports of an launch from mainstream sources.
T-Mobile's status is of course complicated by AT&T's efforts to acquire the carrier, and effort that is being opposed by the U.S. government, Sprint, and a number of other groups.