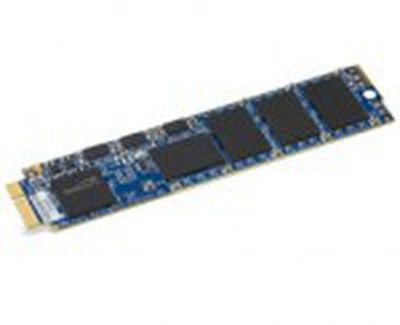 Other World Computing, which offers many customization and upgrade options for Macs, today released an SSD upgrade for 2011 MacBook Airs that takes advantage of the MBA's SATA Revision 3.0 abilities and offers 6 Gigabits of potential throughput.
The factory SSD from Apple only supports SATA Revision 2.0, which maxes out at 3 Gbps, half the speed of Revision 3.0.

The new OWC Mercury Aura Pro Express 6G SSDs combine award-winning SandForce technologies and Tier 1/Grade A Toggle Synchronous NAND to deliver data rates that are more than 3x faster and capacities that are up to 4x greater than factory available SSD options. Currently available in two sizes–120GB and 240GB–the new 6Gb/s SATA 3.0 Revision models continue OWC's position as the only alternative to factory SSD options for the 2010-2011 MacBook Air.
The upgrades don't come cheap, however. The 120GB version is $349.99 and the 240GB version is $599.99.
The MacBook Air comes standard with 64GB, 128GB or 256GB of storage.