RBC Capital Markets analyst Mike Abramsky today issued a new report sharing the results of a proprietary survey of 2,200 respondents, revealing significantly higher demand for the iPhone 5 than was evident for the iPhone 4 ahead of its release last year. The survey shows that 31% of respondents are either very likely or somewhat likely to purchase an iPhone 5, compared to 25% for the iPhone 4 back in June 2010. Moreover, Apple's 15-16 month gap since the iPhone 4 release is also pushing a strong upgrade cycle, with 66% of existing iPhone users very likely or somewhat likely to upgrade to the iPhone 5.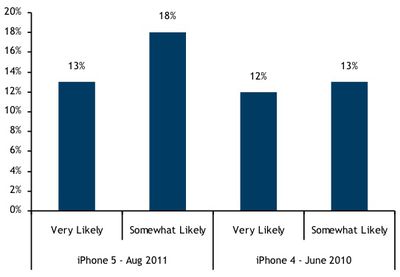 Customer likelihood of purchasing iPhone 5 ahead of launch compared to iPhone 4
Unsurprisingly, potential launches of the iPhone 5 on Sprint and T-Mobile USA are also having a favorable effect on customer demand at those carriers, with 50-55% of customers at both carriers reporting that bringing the iPhone 5 to their carrier would make them "significantly" or "somewhat" more likely to purchase the device. Of the two carriers, Sprint has seen the
stronger rumors
of an iPhone 5 debut, although
hints
of an iPhone 5 for T-Mobile USA have also been circulating.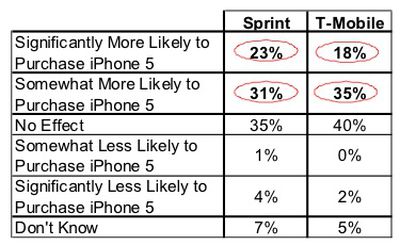 Effect of iPhone 5 coming to Sprint or T-Mobile USA on customer purchasing plans
RBC's survey also takes a look at the tablet market, where Apple continues to hold a dominating position with 85% of all customers planning to purchase a tablet opting for an iPad. Samsung's Galaxy Tab takes second place with 4% of planned purchases.
Based on the strong survey results, RBC is raising its holiday quarter iPhone estimates from 24.4 million units to 27 million units and pushing total fiscal 2012 estimates from 105 million units to 110 million units. RBC is also raising its iPad estimates for the current back-to-school quarter from 10.5 million units to 12.5 million units as Apple continues to dominate the tablet market.