NBC, TNT and TBS Bring Full-Length TV Episodes to iOS Devices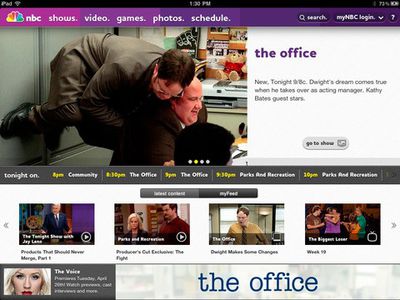 NBC's iPad application
Late last week,
NBC announced
that it had enhanced its
iPad application
to offer viewers access to full-length episodes, providing a significantly improved set of offerings for users.
"We are thrilled to offer our fans full episodes via our NBC.com app. Now the app truly reflects the deep fan experience that we have created online at NBC.com," said [NBCUniversal Digital Entertainment President Vivi] Zigler. "And our fans are going to love the latest update to the NBC Live app which now offers them more content, better access and a unique social television experience."

In addition to full episodes, the NBC app for iPad, which launched in June 2011, gives fans access to content from their favorite shows and features such as thousands of video clips and highlights, exclusive photo galleries, recaps, games and news, making it all customizable from the myNBC dashboard.

TNT for iPad
NBC is not the only network to roll out new support for full-length episodes, as Turner Broadcasting has also released new
TNT for iPad
and
TBS for iPad
applications offering access to full episodes from those channels for users who are eligible through their cable company subscriptions. The company also updated its iPhone applications for
TNT
and
TBS
with the same functionality.