New Glass Panels Arriving at Apple's Fifth Avenue Store Cube
Apple has been working for over two months to upgrade the iconic glass cube and surrounding plaza at its flagship retail store on Fifth Avenue in Manhattan, with the company switching to larger panes of glass for the cube to make for a cleaner appearance as the total number of panes is reduced from 90 to 15.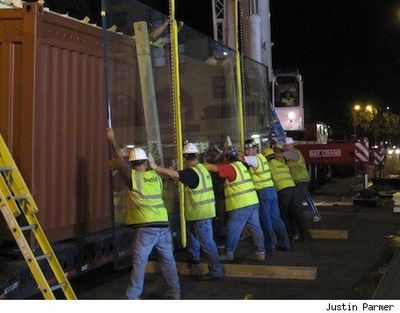 TUAW notes that deliveries of the new glass panes have begun at the site, with workers utilizing a large crane to work through the night unpacking the large panes for installation.
According to Justin Parmer, who shot photos and brief video of the unloading process, the glass panes are roughly two inches thick. Based on the dimensions of the original cube, the new panes should check in at about 32 feet high by a little over 10 feet wide.