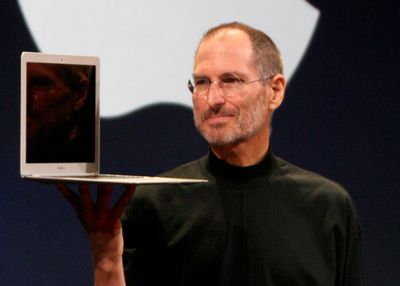 Steve Jobs had been on medical leave for 7 months when he resigned as CEO today, saying in a letter that he would be the first to admit it "if there ever came a day when I could no longer meet my duties and expectations as Apple's CEO. Unfortunately, that day has come."
In his article about the resignation, Adam Satariano writes for Bloomberg about Jobs' recent health and his activities today. Most importantly, he notes that the resignation was not in response to a sudden change in Jobs' health:

The day of the announcement, Jobs was in Apple's Cupertino, California, office for the entire work day, and he attended a regularly scheduled board meeting, according to a person close to Jobs, who was not authorized to speak about the executive's health. While Jobs has been housebound for the past few weeks and his condition is weak, the resignation was not indicative of a sudden worsening, this person said.
Jobs has been dealing with complications following treatment of a rare form of pancreatic cancer since 2004 and a liver transplant in 2009.