Apple Increasing iPhone Production with iPhone 5 Ramp-Up
Digitimes offers some updated estimates for iPhone production for the second half of 2011. According to them, Apple has increased the orders for their iPhone line by about 12-13% from 50 million units to 56 million units. The iPhone 5 in particular will reportedly account for 25.5-26 million units in the second half of 2011.
More specifically, iPhone 5 orders for the 3rd quarter (July, Aug, Sept) have been decreased from 7 million units to 5.5-6 million units while the 4th quarter (Oct, Nov, Dec) orders have been raised from 14 million units to more then 20 million units. Meanwhile, iPhone 3GS and iPhone 4 unit shipments will decline correspondingly from over 20 million in the 3rd quarter to 8 million in the 4th quarter.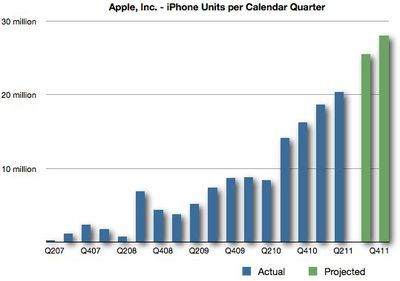 As always, it's very hard to verify these projection numbers from Digitimes. They have previously offered up some unbelievable MacBook Air numbers. The iPhone numbers are likely closer to reality, as Apple's iPhone sales have been accelerating. Apple sold 20.34 million iPhone 3GS and iPhone 4 units during their 3rd fiscal quarter (Apr, May, June). Note that Apple's financial results follow a fiscal yearly quarter system while Digitimes frequently refers to calendar quarters.
Based on these numbers, Apple's production for calendar Q3 and Q4 of all iPhones will be roughly 25.5 million and 28 million units, respectively. Looking at the history sales graph, these times of the year do represent major jumps in sales for Apple.
Some questions arise though, if these are accurate. 8 million units of the iPhone 4 and iPhone 3GS in the 4th quarter must account for some ongoing sales of those units, since the iPhone 5 is believed to be launching in October. Continuing production and sales of the older models could have to do with a reduced pricing model or simply a slow worldwide roll out. Apple frequently launches their new devices in the U.S. first with other countries to follow.