iPhone 5 Update 'Bigger Than Expected', Coming to Canada October 1st?
Rumors regarding the iPhone 5 continue to fly fast and furious, and a couple of reports from earlier today are making the rounds with more claimed details on the next-generation device.
Sterne Agee analyst Shaw Wu today reported in a research note related by AppleInsider and Business Insider that the iPhone 5 update looks to be "bigger than expected", with the device said to be bringing a larger display and thinner bezel in addition to a dual-core processor. The form factor is said to otherwise be "similar" to the iPhone 4.
What is different is that in addition to a dual-core processor that we have talked about before, our supply chain sources indicate that it will sport a slightly larger display than the current 3.5-inch retina display that is already industry leading. We are picking up that it will retain a similar form factor and size but with thinner bezel. We believe this makes sense to improve the iPhone experience without making it too bulky as we have seen with models from competitors.
Consistent with other reports, Wu says that the iPhone 5 will not offer 4G LTE compatibility, as chipsets of acceptable size and power draw are not yet available and network coverage remains low.
Wu does not have a terribly good track record when it comes to iPhone rumors, and some of the case designs floating around and said to have been designed based on the iPhone 5's form factor instead show a slightly teardrop shape with rounded or tapered edges, with the latter feature much more akin to earlier iPhone models than the iPhone 4. Those cases also suggest that the iPhone 5 may be slightly longer and wider than the iPhone 4, supporting the notion that the device could see a larger display.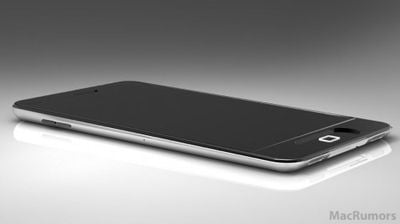 Mockup created by bikr
Meanwhile,
BGR reports
that a "reliable source" at Canadian carrier Telus has revealed that an internal document at the carrier lists an October 1st release date for the iPhone 5. While the listed date could simply be a placeholder, BGR and its source believe that the date could actually be a genuine one given that listings for other upcoming devices do appear to be specific ones rather than placeholders. The report also notes that October 1st is a Saturday, reported to be the busiest day of the week for mobile phone retail stores.
We have significant doubts about this speculation, however, and find the October 1st date to most likely simply be a placeholder given that the date is merely a convenient first of the month and that Apple has not been known to launch new iPhones on Saturdays. In addition, Apple works very hard to keep its carrier partners in the dark about its device plans, with even senior executives at Apple's biggest carrier partners not being clued in to the details of the company's roadmap.