Apple Charges Customer 122 Times for Lion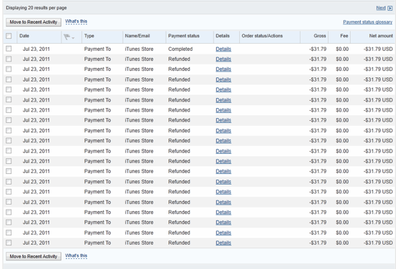 John Christman purchased OS X Lion on July 23, and paid $31.79 after sales tax. Then, his PayPal account was charged $31.79 an additional 121 times, for a total of $3,878.40.
Clearly Mr. Christman didn't need 122 copies of Lion, and something has gone awry. John got in touch with both PayPal and Apple support, but said both sides pointed fingers at each other. "Apple Blames PayPal, PayPal blames Apple. They both are claiming to investigate, but I am stuck broke for three days now."
Christman thinks it is related to the new iCloud feature that allows iTunes to automatically download previous purchases:

I fresh installed Lion, because the upgrade caused a lot of problems. My system needed as fresh start anyway.

I logged into our developer account and got the latest iTunes Beta, and installed it. iTunes has a cool new feature to download all your purchased apps for you.
I clicked download all.

As each download started it charged me $31.79. Some apps came fast, some took longer, but the timing was directly related to when a new app started to download.
He downloaded 116 apps total, but noted that several apps failed to download and needed to be restarted. 116 apps downloaded and 121 extra charges seems too close to be mere coincidence.
Christman isn't the only person to face these issues surrounding Lion and PayPal. There is a lengthy discussion on Apple's support website about the issue, and other bloggers have run into similar problems.
Even though the purchases above say "refunded", Christman says he hasn't seen a dime. "Apple claims there was only one transaction. When I told PayPal to dispute them, they closed the cases and marked the items as refunded on the 23rd. Bear in mind all this money was taken and never returned yet."
"My mortgage is due in 2 days, and thanks to them, I don't have the money."
MacRumors reached out to Apple for comment, who said they would work with John directly to try to get his issues resolved.