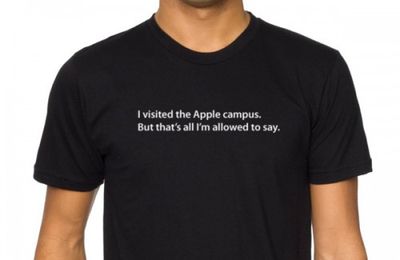 This $17 t-shirt sums up most visits to Apple's corporate headquarters in Cupertino. Available only at Apple's Company Store, it's a bit more classy than "I visited Apple HQ and all I got was this lousy t-shirt" -- but sends the same message. The shirt reads:
I visited the Apple campus. But that's all I'm allowed to say.
Apple's corporate store, open to the public just inside the entrance at 1 Infinite Loop, hosts a wide array of merchandise with the famous Apple logo emblazoned on them: hats, t-shirts, hoodies, mugs and more. It's the only place in the world to purchase official Apple merchandise. Don't expect to stop by the Genius Bar though -- the store doesn't sell computers or offer service: it's strictly souvenirs.
Tip to OS X Daily, and iLounge for the picture.