Apple Asks Developers for OS X Lion Mac App Store Submissions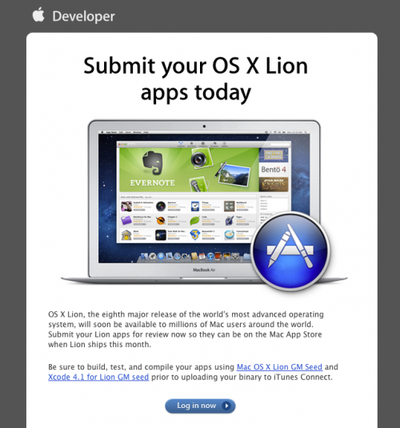 Apple has started soliciting developers to submit Mac App Store submissions for OS X Lion. In an email sent out to developers this evening, Apple says that OS X Lion will "soon be available to millions of Mac users around the world." They are asking developers to submit their OS X Lion compatible applications so they can be on the Mac App Store when Lion ships "this month".
The request for OS X Lion specific applications seems a bit late for the rumored release this week. Last year, Apple began accepting iOS 4 apps into the App Store 11 days ahead of iOS 4's public release. While App Store approvals typically run about a week, Apple has been known to prioritize new release submissions, so the timeframe for OS X Lion App approvals could be much shorter.
OS X Lion is known to be on track for release sometime in July. Lion, itself, will be an App Store only release.