MiniDisplay Port to HDMI Cables 'Unlicensed' and Cannot Be Sold
Mini DisplayPort to HDMI cables, such as those used to connect recent-generation MacBook Pro's to high-definition televisions do not comply with the official HDMI specifications.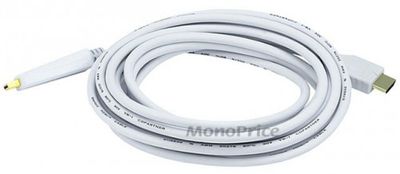 HDMI Licensing, LLC, the trade group that controls adoption of the HDMI specification, explained the situation to TechRadar UK:

The HDMI specification defines an HDMI cable as having only HDMI connectors on the ends. Anything else is not a licensed use of the specification and therefore, not allowed.

All HDMI products undergo compliance testing as defined by the Compliance Testing Specification. The CTS clearly defines necessary tests for all products defined in the HDMI Specification. Since this new cable product is undefined in the Specification, there are no tests associated with this product. It cannot be tested against the Specification.
Basically, a cable that has a HDMI connector at one end and a Mini DisplayPort connector at the other is not a "true" HDMI cable, and is thus, by definition, outside the HDMI specification.
As a result, these cables are considered unlicensed by HDMI Licensing and are not to be sold. Mini DisplayPort to HDMI cables can still be found, for example at the Apple Online Store -- but some retailers, like MonoPrice.com, have already discontinued their mDP to HDMI offerings.
Instead, users can buy Mini DisplayPort to HDMI Female dongles. These dongles, when combined with a standard HDMI-HDMI cable, connect MacBook Pros, and other devices with mDP ports, to high-definition televisions and desktop monitors that accept HDMI.
Most Macs made in the past 18 months support multichannel audio passthrough via Mini DisplayPort. This means that users can connect one cable from their computer to a HDTV or surround sound system, and it will carry audio and video signals over the single cable.