Alleged China Mobile iPhone 4 Prototype Spotted [Updated]
A cell phone picture, purported to be an iPhone running on China Mobile's proprietary 3G network, is making the rounds after being posted on Chinese news site MyDrivers.com (English translation).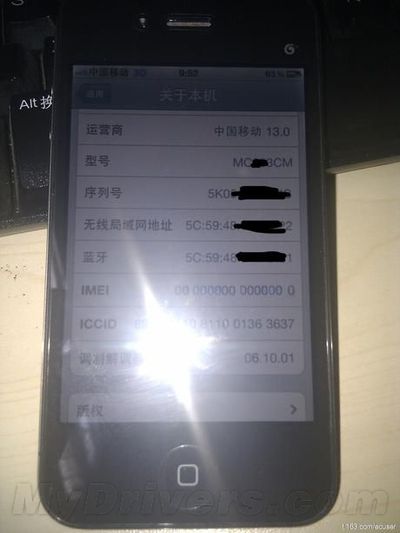 In the picture, we can see the China Mobile 3G logo in the upper right corner. The third number down, which is partially blacked out, is part of the serial number. The third digit, a 0, suggests the phone was made in 2010. The next digit, which appears to be a 5, would have the phone manufactured towards the end of that year, in either the 50th, 51st or 52nd week.
Additionally, the carrier name in the top left corner appears to be China Mobile, written in Chinese text. None of this is conclusive, but it does suggest a China Mobile compatible iPhone is coming to CM's 3G network sooner rather than later.
Last month, Apple COO Tim Cook was reportedly spotted at China Mobile headquarters. Apple and China Mobile have been known to be working hand-in-hand to ensure future iPhones will work on China Mobile's upcoming 4G TD-LTE network.
China Mobile is a strategic partner for Apple. It has a 70% market share in the world's most populous country with more than 600 million subscribers. In November of last year, China Mobile began assisting customers who wished to use the iPhone 4 on their network, including in-store assistance cutting its full-size SIM cards down to micro-SIM size.
Update: As noted by the Shanghai Daily, China Mobile chairman Wang Jianzhou today reported that the carrier already had 5.6 million iPhone users on its 2G network as of the end of May, with 700,000 of those having been added during that month alone.