Spotify U.S. Launch Imminent, Raises $100m Round
Spotify is finally (almost) ready to launch in the U.S., closing deals with three of the four big music labels -- Warner Music, predictably, is the lone holdout -- and a massive funding round, raising $100 million at a $1 billion valuation.
Spotify is a freemium music service, offering both free and paid subscription offerings, similar to Pandora. Spotify lets users listen to whatever songs they wish, in whatever order they wish, rather than building "channels" of like music on Pandora.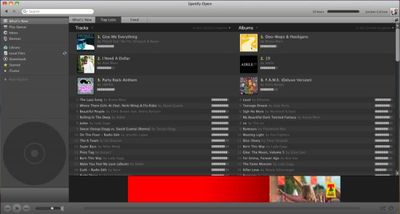 Spotify has a significant presence in Europe, with more than 1 million paid subscribers and 6 million ad-supported free users. In the US, it may face a more uphill climb with heavy new competition from from Google, Amazon, and Apple, plus there are existing music services from Rhapsody and the aforementioned Pandora. In fact, Apple has been rumored to have made efforts to prevent Spotify from being able to launch in the U.S.
Spotify plans to charge around $10 per month for its premium service, and allows users to stream millions of songs they don't own.
The company, founded in Sweden but based in London, raised $100 million from Digital Sky Technologies, Accel and Kleiner Perkins, all heavy hitters in the venture game. DST is a major investor in Facebook, which might help the two companies to make a deal. Spotify and Facebook are working on a "significant integration" according to All Things D's Peter Kafka, though that isn't tied to the U.S. launch. Facebook co-founder and CEO Mark Zuckerberg is a known Spotify fan.
Spotify has a decent war-chest, plus proven success and buzz from its European operations. If it can ink a deal with Warner, it might actually, finally, launch on this side of the pond.