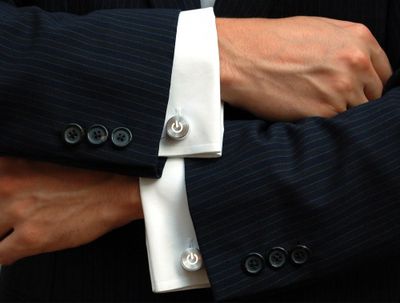 For geeks with Bond-esque style, Adafruit Industries have created iCufflinks. They're electronic cufflinks crafted out of machined aluminum with the standby or power symbol, International Electrotechnical Commission 5009, engraved on it.
That symbol, better known as the Power Button Logo on Macs, doesn't just light up on the iCufflink; it pulses like the sleep indicator on recent Macs.
The company didn't just emulate any pulsing LED, either. Adafruit reverse engineered Apple's sleep indicator, a technology Apple actually patented. Apple found that the by mimicking human breathing for their sleep indicator, it was more "psychologically appealing and superior" to other waveforms.
The iCufflinks are
currently sold out
due to initial demand, but Adafruit hopes to have more in stock soon. They are available from Adafruit's
online store
for $128. The cufflinks are also open-source with source code, circuit board files and schematics published online.