HP Preparing to Take on Apple With TouchPad, Potential Cloud-Based Media Service
HP finally appears set to make its splash into the tablet market, announcing late last week that its webOS-based TouchPad will go on sale July 1st and match the iPad's price points of $499.99 for a 16 GB model and $599.99 for a 32 GB model. The pairing of HP and Palm has been seen as one of the most interesting contenders in the tablet market, although none of Apple's other primary competitors have yet made a serious dent in the iPad's dominant market position.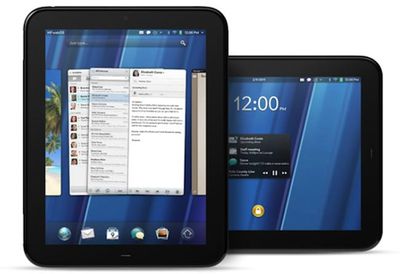 But an iPad competitor (alongside several webOS-based smartphones) may not be HP's only attempt to take Apple head-on, as Billboard reports that the company is also talking to major music labels about developing its own cloud-based music service that could eventually expand to include movies and TV.
While the music industry focuses on Apple, Google and Amazon, Hewlett-Packard is quietly making plans -- again -- for its own locker-based service. Multiple sources at the major labels report that the discussions are heating up.

The Palo Alto, Calif.-based computer and technology company is engaged in conversations with the majors about building a cloud service that would eventually offer music, movies and TV shows. Those discussions began a few months ago.
The report summarizes HP's past efforts at developing its own music service, a history that doesn't necessarily instill confidence in the company's ability to put together a quality product this time around, although a number of industry observers have noted that players such as Amazon and Google (and now HP) may have an easier time negotiating the complex music industry now that Apple has created a template with its own iCloud/iTunes Match service.
Meanwhile, sources are unsure about how quickly HP could come to market, with some saying that nothing would be likely for at least six months. Moreover, sources say that HP has been on the backburner for the majors while they place most of their attention on negotiations with Apple, Google and Amazon. But if HP decides to go forward it wouldn't necessarily be the last to market with a full-blown service, as all three of the aforementioned companies have a way to go to achieve that very goal too.
While HP has long played a leading role in the computer industry, it had not made a significant push into mobile until its acquisition of Palm last year. But with mobile now appearing set to become a focus for the company, cloud-based media services immediately become a more important piece of the puzzle as the company seeks to catch up with iOS, Android, and BlackBerry in the rapidly-growing market.