Apple Introduces iCloud: Contact, Cal, Docs, Photos, and Music Syncing Free of Charge
After giving the stage over to Phil Schiller and Scott Forstall for much of today's WWDC keynote, Steve Jobs himself introduced iCloud to the world.
Noting that devices have changed over the past decade, with people now using photos and videos on the go, the PC should no longer be the hub for your digital life, with all media hosted on the computer. "Keeping these devices in sync is driving us crazy," Steve told the crowd.
To address the new reality, Apple has moved the digital hub to the cloud. All devices can talk to the cloud whenever they want, with instant propagation to all other devices. With iCloud, users get 5GB of free storage for mail, documents and backups; purchased music, apps and books don't count.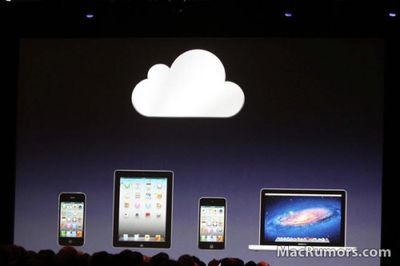 "Some people think a cloud is just a hard disk in the sky," Steve told the crowd. "We think it's way more than that." iCloud stores content (think contacts, calendar, photos, music), with wireless push to all devices. And with APIs providing developers with hooks into iCloud, all apps can take advantage of the service.
iCloud completely replaces MobileMe. Mail, contacts, and calendar are all free. Contacts and calendars will be updated across devices, just like they currently do, but there are several new components to iCloud.
First is the App Store. Users can see purchase history on all devices. Second, iBooks. Books and progress will be synced across devices. Once daily, "a lot of your important content" will be uploaded to the cloud, making it super easy to buy a new iOS device. Just type in your AppleID and password, and all your information will be automatically loaded up: music, apps, books, camera roll, device settings and app data.
Apple has added documents to iCloud as well. Users can edit a document in iWork on a Mac, and it gets instantly pushed to iCloud, where it can be accessed on an iPad. All data is saved and backed up in the cloud. This functionality is built in to Pages, Numbers and Keynote. File transferring seems totally automatic and effortless. Tweak an existing document in Pages on a Mac, and it immediately gets saved to iCloud and changes are immediately pushed to an iPad.
Apple has been working for 10 years to get rid of the file-storage system. It started with iOS, and has made its way to the Mac. iCloud entirely removes the concept of file-storage. Apps manage presentation of its own documents. Apps can store documents in iCloud, documents pushed automatically, with automatic updates on all devices when content is changed anywhere.
For developers, Apple has provided iCloud storage API's, giving easy access to iCloud features for developers -- this is a developer's conference after all, and the dev's love it.
Photo Stream, previewed earlier this year, is part of iCloud too. Photo Stream works just like documents, but your camera roll gets uploaded to the cloud, then sent to everything else. Users can import photos as well, and upload to the cloud. Steve stressed that all these features were built into apps, invisibly, "so there's nothing new to learn." On the Mac, Photo Stream is built in to iPhoto. Apple TV supports Photo Stream as well.
Only the last 1,000 photos are stored in the cloud will be downloaded to iOS devices, but all photos will be stored on the Mac/PC side. Only 30 days of photos are stored on iCloud, so iCloud doesn't save all your data, it just makes sure that everything is synced up properly.