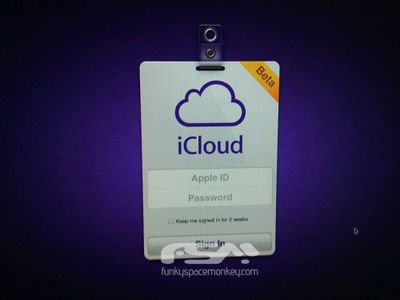 FunkySpaceMonkey.com posts a screenshot of what it claims to be the login page for a beta version of Apple's iCloud service, claiming to have obtained the image from "Apple's internal server".
If you want all the rumors about they'ree [sic] easy to find on every site. But here's the first fact about it. We got a first look at the beta login page of iCloud, from Apple's internal server.
The meaning behind use of a "name badge" style window for the login is not entirely clear, although it could be construed to be offering users the feeling of gaining access to Apple's data centers.
FunkySpaceMonkey.com does not have a significant track record of posting Apple-related rumors, and so we are hesitant to put too much faith in it. We also do tend to see significant numbers of questionable claims and images showing up in the lead-up to major Apple events, but we felt that this one was interesting enough to publish.