When Apple released the initial developer preview for Mac OS X Lion back in late February, some observers were surprised to hear that Apple had moved to bundle the Mac OS X Server components in with the standard release, potentially lowering the price of deploying server capabilities on the Mac by a significant margin. Apple details the inclusion on its Lion features page:
Lion Server is now part of Mac OS X Lion. It's easy to set up your Mac as a server and take advantage of the many services Lion Server has to offer.
But with the second developer preview of Lion released a month later, Apple split the server components out into a separate download, leading to questions about whether the company still intended to bundle client and server content together for the public release.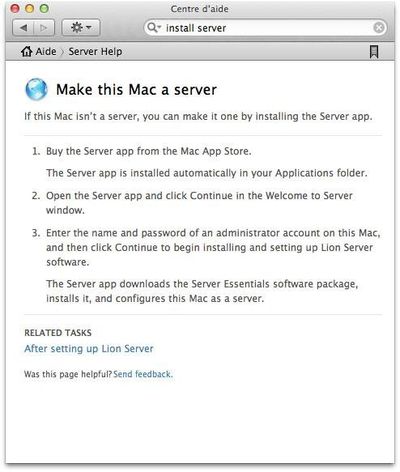 Now, as noted by Hardmac, a discovery in a help file for a Mac OS X Lion developer build suggests that users will be required to download a paid app from the Mac App Store in order to activate the server components of Lion.
Snow Leopard Server currently ships at a price point of $499 for an unlimited client license, but it is unclear how much Apple intends to charge for the "Server" app associated with Lion. Apple has in the past charged nominal fees for certain software downloads due to accounting requirements relating to unlocking new capabilities, so it is possible that the fee for activating Mac OS X Lion features could simply be a very minor one.