Microsoft Previews Windows 8 with Cues from iPad and App Store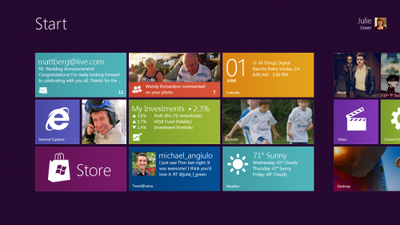 At AllThingsD, Microsoft previewed Windows 8 for the first time. The early look at the upcoming operating system shows some drastic changes.
At the heart of the new interface is a new start screen that draws heavily on the tile-based interface that Microsoft has used with Windows Phone 7. All of a user's programs can be viewed as tiles and clicked on with a touch of a finger.
The shown Windows 8 screenshot carries over the tile-based appearance of the Windows Mobile phone, but the new operating system is said to support two types of applications. One is the classic Windows application which will run in the familiar desktop interface, while the second type are HTML5/Javascript applications that look more like a full screen mobile application.
Windows 8 is said to have been influenced by the iPad and is meant to scale from touch screen devices to desktop. The prominent "Store" link seems to suggest that Microsoft will be offering a Windows App Store, much like Apple's Mac App Store. Microsoft promises that while the interface is optimized for touch, it should also work equally well with a mouse and keyboard.
Microsoft details many of the changes they demoed:
• Fast launching of apps from a tile-based Start screen, which replaces the Windows Start menu with a customizable, scalable full-screen view of apps.
• Live tiles with notifications, showing always up-to-date information from your apps.
• Fluid, natural switching between running apps.
• Convenient ability to snap and resize an app to the side of the screen, so you can really multitask using the capabilities of Windows.
• Web-connected and Web-powered apps built using HTML5 and JavaScript that have access to the full power of the PC.
• Fully touch-optimized browsing, with all the power of hardware-accelerated Internet Explorer 10.
Microsoft has not yet announced a timeframe for Windows 8's launch.
Apple, of course, is also reintegrating iOS mobile inspired changes into their next major operating system. Mac OS X Lion has been billed as taking "our best thinking from iPad" and bringing it all to the Mac. These features include full screen apps, the Mac App Store, and more. Apple will be presenting more on Mac OS X Lion at next week's WWDC.