AT&T Prepares to Launch LTE 4G Network in 5 Cities This Summer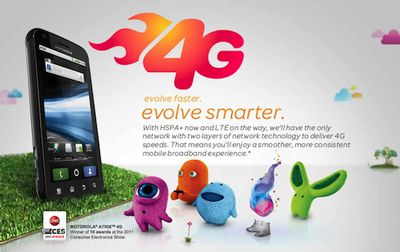 AT&T today announced that it will launch its next-generation LTE 4G wireless network in five U.S. cities "this summer": Dallas, Houston, Chicago, Atlanta, and San Antonio. An additional ten unnamed markets are planned to see LTE roll out in the second half of the year with AT&T aiming to cover 70 million Americans by the end of the year.
AT&T has delivered five mobile broadband speed upgrades in recent years, including our HSPA+ deployment last year. And average nationwide speeds on the AT&T network have increased - more than 40 percent over the past two years alone.

The next network evolution will arrive this summer with the addition of LTE in five markets - Dallas, Houston, Chicago, Atlanta and San Antonio. We plan to add another 10 or more markets in the second half of the year, and cover 70 million Americans with LTE by year-end. We also have plans to add 20 4G devices to our robust device portfolio this year, with some of those being LTE capable.
The announcement indicates that AT&T remains on schedule for its LTE rollout and offers the first word on launch markets for the service.
Many observers had been hoping that Apple might include LTE technology in the next iPhone, particularly given rumors that Apple won't be introducing the handset until several months after its usual annual update window, but increasing numbers of reports are indicating that LTE won't make it into the new iPhone, simply because the chips required by Apple won't be available until late this year. Apple has stated that the current generation of LTE chips requires handset design compromises that the company is not willing to make.