Explosion Creates Potential iPad Production Loss of 500,000 Units as Foxconn Briefly Shuts All Polishing Lines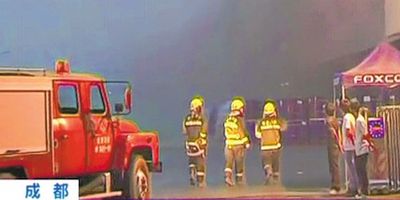 Research firm IHS iSuppli yesterday issued a report estimating the potential iPad 2 production loss due to the explosion at its Chengdu, China plant at up to 500,000 units. The estimated shortfall comes after Foxconn reportedly reassured suppliers that production will continue.
While most iPad 2 production takes place at another Foxconn facility in Shenzhen, that plant may not be able to compensate for all the lost output in the second quarter at the Chengdu site. The Shenzhen facility at present has capacity to produce 7.5 million units in the second quarter - iSuppli forecasts 7.4 million iPad 2 units will be shipped out during this period. To support these shipments, Foxconn must manufacture a larger quantity of devices, at between 7.8 and 8.1 million units during the second quarter. This means that Foxconn's shipments will fall short of expected levels by between 300,000 and 600,000 units in the second quarter.
Preliminary investigations into the cause of the blast have pinpointed a buildup of combustible dust in the facility's ventilation system, and The Wall Street Journal reports that Foxconn has temporarily shut down polishing workshops at all of its facilities for testing in order to ensure that similar explosions do not occur elsewhere. Three workers were killed and over a dozen others were injured in the Chengdu blast.
A spokesman for Hon Hai said the company's tests at the affected workshops could last two days. "The workshops could be back online as soon as they pass the test," he said.
Foxconn has indicated that it has ample supplies of polished parts to carry it through the brief shutdown, suggesting that the testing will have little impact on the company's production capacity. The same can not be said for the damaged Chengdu production lines, as it will undoubtedly take time to sort out the events and restart production. The company does, however, have significant flexibility with its huge number of production lines at a number of different facilities, and its ability to move quickly on construction projects means that it could have the Chengdu plant back up and running in relatively short order.