Verizon Reiterates Claims of World-Mode Next-Generation iPhone, Simultaneous With AT&T Debut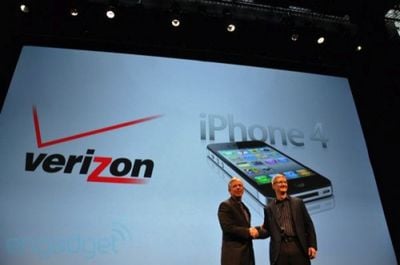 Reuters reports that Verizon Chief Financial Officer Fran Shammo today reiterated his earlier claim that the next-generation iPhone will in fact be a "world mode" device capable of running on both GSM and CDMA. Furthermore, Shammo noted that Verizon will be able to launch the iPhone simultaneously with the device's debut on rival AT&T.
While Verizon has sold fewer iPhones than some analysts expected, Shammo said he was happy with sales of the "six-month-old phone" that only works in some countries.

When the next iPhone model launches Verizon will be able to offer it at the same time as AT&T. Verizon's version will also work in as many countries as AT&T's iPhone, which has global coverage, Shammo said.
Shammo also addressed the topic of LTE 4G compatibility for the iPhone, calling it "a bigger issue for Apple" in seemingly hinting that the device will not support the technology, in line with recent reports pointing to a lack of LTE chipsets meeting Apple's design and power requirements.
Shammo said that even if the next iPhone does not support LTE, Verizon will have enough high-speed alternatives to sell.

"I think it's a bigger issue for Apple than it is for us," he said. "Depending on where Apple plays, that's where we'll sell."
Finally, Shammo confirmed that Verizon will drop unlimited data plans by this summer, moving instead to a tiered system used by AT&T and other carriers that charges customers more if they use greater amounts of data. Verizon hopes to offset this shift somewhat by introducing family plans for data, allowing multiple devices to share from a single pool of data allowance. Mobile phone companies have long offered family plans for voice minutes, and a shift to similar offerings for data could increase users' flexibility and reduce prices compared to current offerings where each device is required to have its own data plan.