Weekend Retail Store Meetings Related to New iPad-Focused Staff Software? [Updated: Minor Store Makeovers]
There has been a considerable amount of back-and-forth regarding staff meetings and other activities reportedly scheduled for this weekend at Apple's retail stores, with some speculation suggesting that Apple could be readying a product launch or other activities related to the company's 10th anniversary of the opening of its first retail stores.
It is beginning to appear, however, that the events may be a revamp of on-floor sales procedures that could see the company equipping its sales staff with iPads for checkout and on-floor demonstration purposes. We had heard last month that the events were related to internal training rather than a special event or launch, but continued rumors have brought ongoing attention to the possibility of something more.
Yesterday, 9 to 5 Mac reported that it had received hints of the events being related to "Apple Store 2.0", suggesting that the changes would be bringing significant changes to the functioning of the company's retail stores.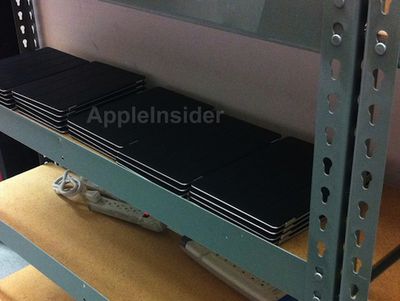 Stocks of iPad 2s waiting for on-floor deployment at Apple retail store
AppleInsider
now appears to be
filling in the picture
with a new report claiming that Apple retail stores have received shipments of dozens of iPads that appear to be destined for on-floor staff usage and are said to be set to be equipped with a new version of the company's "RetailMe" software to support the rollout.
People familiar with Apple's retail operations revealed that stores across the U.S. have been stocked with dozens of iPads that are being prepared for use by employees. Training and utilization of the hardware could begin as soon as this weekend.

In one location, nearly 40 iPads were supplied for a store with about 100 specialists. Based on those numbers, everyone working on any given day could be equipped with an iPad, perhaps in place of an iPod touch-based EasyPay terminal, which Apple stores switched to in 2009.
The new RetailMe software offering product information and training materials for sales staff is said to potentially be the subject of the "gigabytes" of training data previously claimed to be scheduled for download to Apple's stores on Saturday, although that theory has yet to be confirmed.
Update: 9 to 5 Mac has more on the retail revamp, claiming that Apple will be rolling out a number of enhancements to its stores including dedicated "Startup Sessions" areas for personal setup, iPad-based signage and information stations next to display machines, and new visual displays and sound systems. Finally, the company is said to be rolling out a revamped Apple Store application for iOS devices to assist customers with their in-store experience.