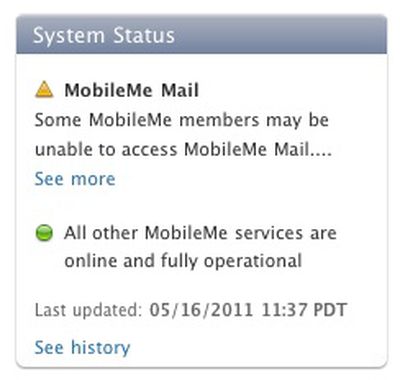 Some MobileMe users are having difficulties accessing their MobileMe mail today. Macgasm noticed it first, and some of the staff at MacRumors have been having sporadic difficulties connecting via both IMAP and the MobileMe member page at me.com.
Apple's MobileMe system status page states the obvious:
Some MobileMe members may be unable to access MobileMe Mail. Normal service will be restored ASAP. We apologize for any inconvenience.
But, Apple is aware of the problem and is actively working to fix it.
MobileMe subscribers don't get a service level agreement, or SLA, for their $99 annual subscription fee, and Apple notes in the MobileMe terms of service that the service is provided "as is" and on an "as available" basis, and provides no warranty that the "service will be timely, uninterrupted, secure or error-free".