Shortages of Components and Labor Affecting iPhone and iPad Production?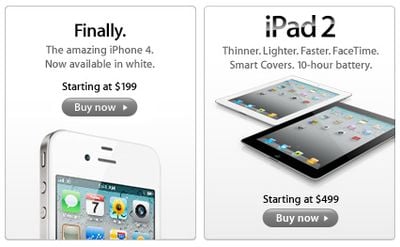 In a pair of reports today, DigiTimes claims that Apple's manufacturing partner Foxconn is experiencing shortages of both labor and component supplies required for iPhone and iPad production, with Apple also being among the companies still scrambling to secure component supplies in the face of increasing supply chain tightness resulting from the Japanese earthquake that has seen suppliers nearly run through any cushion they may have had.
Taiwan-based electronics manufacturing service (EMS) provider Foxconn Electronics (Hon Hai Precision Industry) is reportedly facing a shortage of both labor and materials at its plants in Chengdu, China, which is likely to affect shipments of iPad 2 and iPhone 4 orders in the second quarter, according to sources from upstream component makers.
According to the reports, Foxconn had planned 52 iPad production lines at its Chengdu plants capable of pumping out a total of at least 40 million units per year, but the component shortages and labor issues have meant that the manufacturer is falling short of Apple's current demands for 2.5-3 million units per month.
The component shortages stemming from the effects of the Japanese earthquake and the resulting country-wide power issues are said to have led to electronics manufacturers seeking to stockpile existing supplies of components while attempting to play down those moves lest suppliers realize the extent of the shortages and increase prices.
The sources pointed out that PC- and smartphone-related players have all claimed to have not seen any supply issues after the earthquake because of concerns that it might cause upstream players to panic and even raise their product prices, while trying to prevent the subject from impacting their new product launches. However, most of these makers have all been working on stocking their component inventory behind the scenes, the sources added.

The sources noted that several component suppliers are already close to having shortages with the real challenge expected to hit in June. The shortage crisis is also expected to bring issues such as rising costs and an increased rate of defective products in the future.
Apple shipped 4.69 million iPads during the first quarter of 2011, well below what most observers were expecting. The shortfall was reportedly due to the production transition from the original iPad to the iPad 2, with several technical challenges including light leakage on displays from LG and speaker production issues also affecting shipments.