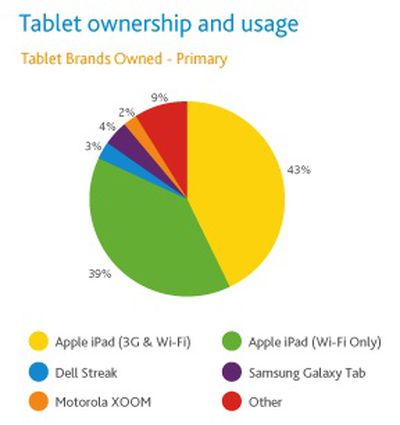 Media research firm Nielsen today
announced
the results of its Mobile Connected Device Report survey for the first quarter of 2011, determining that Apple held a dominating 82% of the installed base for tablets in the United States during the quarter. The survey found 3G-capable iPads slightly more popular than non-3G models, 43% to 39%, with the Samsung Galaxy Tab proving the most popular competitor with only 4% of the market.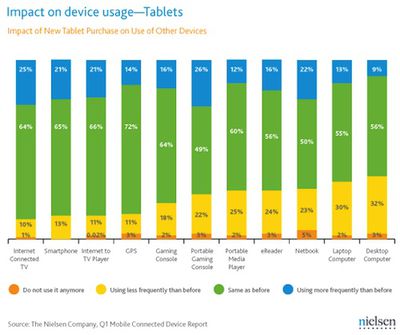 The study also examined the effect of tablet ownership on usage of other devices, with 35% of tablet owners reporting that they had decreased usage of desktop computers and 32% reporting decreased usage of notebook computers. Interestingly, 9% of owners actually increased their desktop machine usage while 13% increased their notebook usage, calling into question just how much of the usage variation is due to effects from tablets.
Twenty-seven percent of those who also own eReaders said they use their eReader less often or not at all - the same percentage as those who also own portable media players. One-in-four tablet owners who own portable games consoles are using those devices less often, if at all, since purchasing a tablet.
About half of tablet owners report that they are the exclusive user of the device in their household, while 43% report sharing the device with others. 8% of tablet owners do not use the device at all, with usage instead tied to another member of the household.