Mac OS X Lion to Bring iOS-Like Uninstall Process for Mac App Store Apps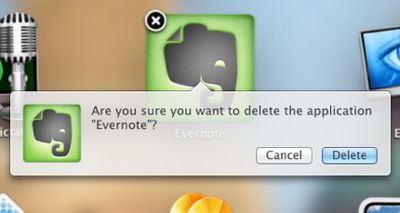 As
noted by Apple iGuide
(
via TUAW
), the latest developer build of Mac OS X Lion
seeded last Friday
brings a new iOS-like mechanism for deleting applications installed via the Mac App Store.
Invoking the new iOS-like "Launchpad" in Mac OS X Lion for managing applications allows users to click and hold on an icon to bring up the "jiggling" icon mode familiar to iOS users as the mechanism for organizing and deleting applications. Mac OS X Lion now allows users to delete Mac App Store application in the same way as in iOS, by clicking on an "X" button at the top left of the application's icon.
In Lion a user simply needs to invoke the Launchpad, click and hold on the icon of the application they wish to delete, and when the icons begin to wiggle a cross appears on icons of apps installed via the Mac App Store. Clicking this cross brings up the message "Are you sure you want to delete the application...?", and clicking 'Delete' confirms and removes the app.
This only works with applications installed from the Mac App Store, but will be a welcome addition to many, and makes removing applications easier for users familiar with iOS devices.
Those familiar with the Lion developer builds note that it is clear than the feature was coming in earlier releases, but is finally functional in the latest build.
Apple has of course stressed the "Back to the Mac" nature of Mac OS X Lion, bringing a number of the user interface aspects of iOS to the Mac OS X platform, offering a more consistent experience with the goal of making it easier for users to move between platforms and making Mac OS X more intuitive.