Preparations for White iPhone 4 Launch Continue
As we've been noting, Apple is gearing up to finally release the white iPhone 4, with all signs pointing to a release over the next few days, possibly as soon as tomorrow.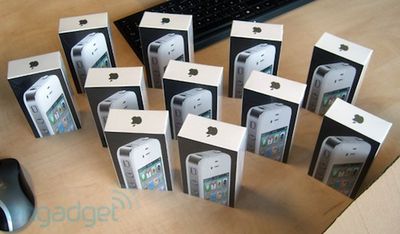 Engadget
posts photos
of a shipment of white iPhone 4s that have reportedly arrived at a Belgian retailer just ahead of the launch, indicating that Apple's distribution channels now have stock in position for immediate availability as soon as the launch occurs.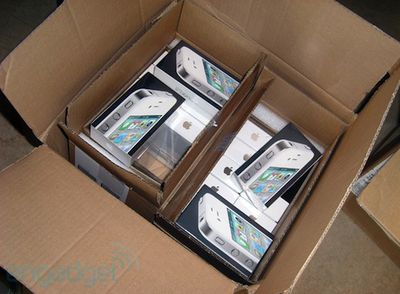 Meanwhile, German sites
Macerkopf
and
iFun.de
have noted the existence of promotional banners already in place on T-Mobile's site indicating a launch of the white iPhone 4 in that country on April 28th. The images have, however, already been removed from T-Mobile's site as the carrier has no doubt already reacted to the publicity of these reports.


Macerkopf
also indicates that Apple's own retail stores in the U.S. have received promotional materials for the white iPhone 4, preparing to roll out the new signage in support of the device's release.