Apple Releases Safari 5.0.5 and Security Update 2011-002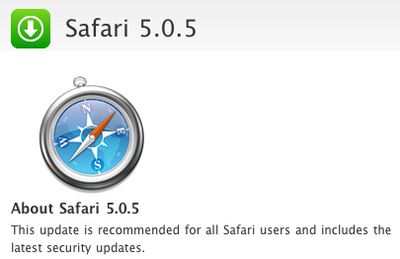 Alongside today's
release of iOS 4.3.2
, Apple has also pushed out
Safari 5.0.5
and Security Update 2011-002 for Mac OS X. The updates are available through Apple's download pages and through Software Update.
Apple's download notes for Safari 5.0.5 indicate only that the update includes the latest security updates.
Security Update 2011-002 is available as a small update for Snow Leopard systems, while the Leopard versions are much larger and incorporate additional changes that were previously made to Snow Leopard.
- Security Update 2011-002 (Snow Leopard) (4.43 MB)
- Security Update 2011-002 (Leopard - Client) (241.35 MB)
- Security Update 2011-002 (Leopard - Server) (473.19 MB)