Apple Again Bucks Trend With Sales Growth in Shrinking PC Market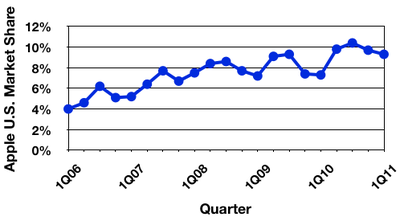 Apple's U.S. Market Share Trend: 1Q06-1Q11 (Gartner)
Just as it did
last quarter
, Apple appears to have once again demonstrated year-over-year Mac sales growth for the first quarter of 2011 while the rest of the industry has been mired in a slump reportedly due in no small part to a shift in consumer interest to new media tablets dominated by Apple's iPad. The data comes from research firms Gartner and IDC.


Gartner's Preliminary U.S. PC Vendor Unit Shipment Estimates for 1Q11 (Thousands of Units)
According to
Gartner's report
, Apple once again checked in in fifth place in the U.S. market, grabbing a 9.3% share that marks a significant rise from a 7.3% share in the prior-year quarter. The number is down slightly, however, from a 9.7% share in the previous quarter and marks the second consecutive decline in Mac sales share, although Apple's market share does tend toward cyclical fluctuations that have led the company's share to still be significantly higher than it was in the first quarter of 2010.
"Weak demand for consumer PCs was the biggest inhibitor of growth," said Mikako Kitagawa, principal analyst at Gartner. "Low prices for consumer PCs, which had long stimulated growth, no longer attracted buyers. Instead, consumers turned their attention to media tablets and other consumer electronics. With the launch of the iPad 2 in February, more consumers either switched to buying an alternative device, or simply held back from buying PCs. We're investigating whether this trend is likely to have a long-term effect on the PC market."
Gartner's report pegged Apple's year-over-year unit growth in the United States at 18.9%, outpacing fourth-place Toshiba's 10.9% growth as all other top manufacturers saw declines that led to an overall decline of 6.1% in the U.S. PC market.
IDC's report tells a somewhat similar story, although that firm pegs Apple's year-over-year unit growth in the U.S. at only 9.6%, behind that of Toshiba at 10.4%. But IDC also sees a much steeper drop-off for Acer than Gartner sees, with IDC showing a 42% drop in unit sales that bumps Acer down from third place to fifth place and allows Apple to rise to fourth place with 8.5% of the market.
As usual, neither Gartner nor IDC covered Apple's worldwide performance for the quarter, as the company does not rank in the top five by global shipments. Both reports did, however, record year-over-year declines in the worldwide market similar to those seen for the United States, with Gartner seeing a 1.1% decline in sales while IDC tracked a 3.2% drop.