Apple Exploring Carbon-Fiber Enclosures for Future Devices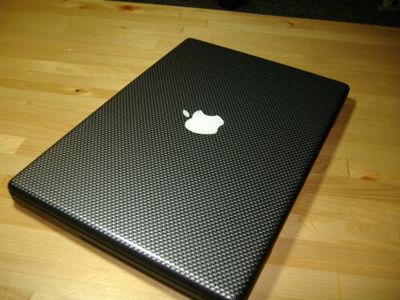 "Carbon Fiber" decal
on MacBook Pro
Apple has long been rumored to be experimenting with carbon-fiber enclosures for their future laptops and iOS devices. The benefits of carbon fiber over traditional materials has included high tensile strength, low weight and low thermal expansion.
Back in November 2008, reports suggested Apple would replace aluminum parts in the MacBook Air with carbon fiber in order to further drop the weight of the ultra-thin laptop. Then in 2009, a patent application was published also revealing that Apple had been researching the use of carbon-fiber composites for use in the exterior shells of electronic devices. In that document, Apple was specifically working on improving the cosmetic appearance of carbon fiber which it described as "often being black, [providing] a narrow range of surface appearance to the molded article and therefore may give a 'tired', unexciting look."
Finally, this past year, two separate reports indicated that Apple had been working on prototype iPad 2s with carbon fiber backings (2).
Now, a relatively recent hire of Senior Composites Engineer Kevin Kenney (via 9to5Mac) seems to indicate more of the same. Kenney had previously worked at Kestrel Bicycles which is credited with being the pioneer of the carbon fiber frame design with the world's first all-carbon bicycle frame in 1986.
Apple has always paid special attention to the aesthetics of its consumer products, seemingly trying to always shave off a few millimeters of thickness or ounces of weight off of its latest products. Exploring alternative materials is a natural area of research. Late last year, Apple acquired exclusive rights for Liquidmetal's alloys in the field of consumer electronics. Apple has yet to release any designs on any of these new materials.