Microphone Differences Found Between Wi-Fi and 3G iPad 2 Models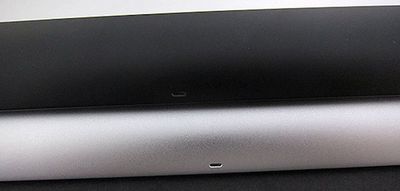 iPad 2 microphones: 3G (top) vs. Wi-Fi (bottom)
iLounge reports
that it has discovered differences in the quality of sound captured by the microphones on various Wi-Fi and 3G-capable models of the iPad 2, with the Wi-Fi-only models demonstrating the best sound quality. The differences primarily seem to stem from the fact that the microphone opening in the center of the top edge of the device is on an aluminum surface in Wi-Fi iPads and in black plastic on 3G models, although even the GSM and CDMA models behave slightly differently.
Perhaps due to this change in materials, the Wi-Fi model offers markedly cleaner audio than that of the 3G, which sounds slightly muffled and echo-prone as a result. Curiously, we found the GSM 3G model's audio to be slightly preferable to that of the CDMA model, which seemed to suffer the issues more severely.
According to the report, the differences are most pronounced when the iPad is held facing the user, as would typically the case when using FaceTime or other video-based apps.
The microphone has been located next to the headphone jack on the top edge of the first-generation iPad, but Apple presumably centered the microphone in the iPad 2 in hopes of doing a better job of picking up sound when used with FaceTime and other apps designed to be used in a forward-facing portrait orientation. It appears, however, that the acoustical qualities of the black plastic strip along the top edge used to house the antenna in 3G-capable models results in lower performance compared to Wi-Fi models with the microphone surrounded by aluminum.