Filemaker Releases Bento 4, Updates iPhone and iPad Apps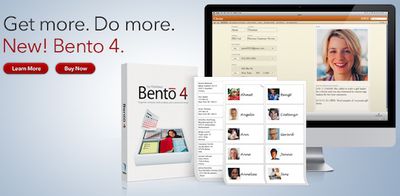 Apple subsidiary Filemaker today
announced
the release of Bento 4, a significant update to the company's personal database software for Mac OS X. With the release, Bento is now
available
on the Mac App Store for the first time, although boxed versions are also available.
New features in Bento 4 include support for label printing, new options for printing forms, the option to export templates with data included for pre-populated templates, location data integration, and more. Bento 4 is priced at $49 for a single license or $99 for a five-license pack. Current Bento users are eligible for a $20 rebate.
Filemaker has also released updated versions of Bento for iPhone and iPad, priced at $4.99 each. The updates bring several enhancements including voice memo support and multitasking.
Bento for iPhone and Bento for iPad have both received significant updates. You can now record voice memos into media fields on your mobile devices and tie them to your records, perfect for capturing events, logging meetings for later review, and just capturing notes without typing. Voice memos can be synched with Bento 4 for the Mac.
Bento for Mac users can make more use of their information on the Bento for iPhone and Bento for iPad. Now you can sync iCal tasks from the Mac, edit simple list data on your iPhone, and use related records to link libraries.
Other enhancements include multi-tasking and improved support for the iPhone Retina display.
The Bento iOS applications also now offer support for multiple languages for the first time, with Japanese, French, German, Italian, Spanish, and Dutch now being supported.