Some Apple Retail Stores Opening Early Tomorrow for iPad Rush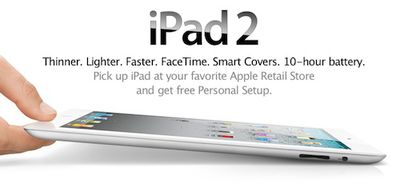 Apple Bitch reports
that some Apple retail stores around the United States will be opening an hour early tomorrow in anticipation of receiving more iPad 2 shipments after quickly running dry this weekend.
While no official announcement has been forthcoming from Apple, anecdotal reports from shoppers across the country trying get an iPad 2 this morning, say they were told by retail staff that even if the Apple Stores were re-stocked today, the iPad 2 would not be sold until tomorrow and for this reason, the Stores would open early for dedicated iPad 2 sales. We have confirmed this with three retail stores.
With most retail stores typically seeing 10:00 AM openings, the change means that these stores will be opening at 9:00 AM tomorrow.
We've independently checked with ten Apple retail stores, but only four of them disclosed plans to open early tomorrow. All stores note that shipments are unpredictable, and even those expecting to receive shipments tomorrow do not know what mix of models they will be receiving. All sales are first-come, first-served, so customers may experience lines should they be hoping to pick up an iPad 2 tomorrow.