Adobe Releases Flash Player 10.3 Beta With Preferences Integration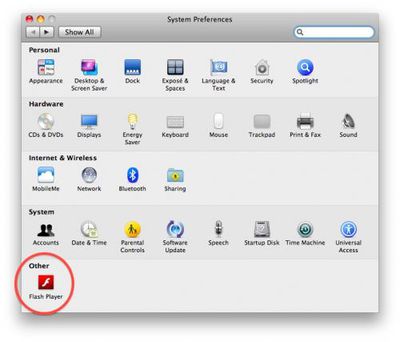 Alongside its
"Wallaby" Flash-to-HTML5 converter
, Adobe has also released a beta version of
Flash Player 10.3
, introducing a number of new features. Among the most notable are enhanced privacy and setting controls that integrate with System Preferences in Mac OS X and with browser preferences.

- Integration with browser privacy controls for managing local storage -- Users now have a simpler way to clear local storage from the browser settings interface - similar to how users clear their browser cookies today. Flash Player 10.3 integrates control of local storage with the browser's privacy settings in Mozilla Firefox 4, Microsoft Internet Explorer 8 and higher, and future releases of Apple Safari and Google Chrome.
- Native Control Panel -- Flash Player 10.3 provides users with streamlined controls for managing their Flash Player privacy, security and storage settings. Windows, Mac, and Linux users can access the Flash Player Settings Manager directly from the Control Panels or System Preferences on their computers.
Also new for Mac users is an update notification system to help users ensure they are running the most up-to-date version of Flash Player. Other general improvements include video measurement analytics and acoustic echo cancellation for improved audio quality in collaborative environments.