Samsung Rethinking Galaxy Tab 10.1 After iPad 2 Unveiling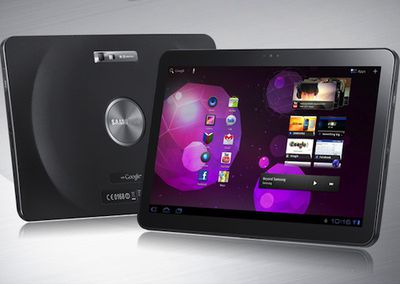 South Korea's
Yonhap News Agency reports
(
via AsiaPulse
) that Apple's iPad 2 introduction has forced Samsung to reconsider its plans for its forthcoming
Galaxy Tab 10.1
, a larger version of its initial 7-inch Galaxy Tab that is intended to offer a more similar form factor to the iPad. According to a Samsung executive, the company is looking to improve the specs of the device to be more competitive with the iPad 2.
Lee Don-joo, executive vice president of Samsung's mobile division, said that Apple has presented new challenges for the South Korean company with a thinner mobile gadget that is priced the same as its predecessor.
"We will have to improve the parts that are inadequate," Lee told Yonhap News Agency. "Apple made it very thin."
But technical specs are not the only issue facing Samsung with the Galaxy Tab 10.1, as the company also must address pricing issues that currently will make it difficult for the device to compete against the iPad 2.
The 7-inch Galaxy Tab was priced at nearly US$900 without a two-year contract from mobile operators, while the price of the iPad 2 starts at $499, with the most expensive model costing $829. Samsung did not announce the pricing details for the 10.1-inch tablet.
"The 10-inch (tablet) was to be priced higher than the 7-inch (tablet) but we will have to think that over," Lee added.
Apple made a number of references to the tablet competition during its iPad 2 introduction earlier this week, making a point to illustrate Apple's hardware and software head start and pricing advantages over competitors' offerings. Apple's iPad 2 comes to market even as some competitors have yet to begin shipping their first round of tablet devices announced in some cases many months ago.