'Joint Venture' Small Business Program Officially Launched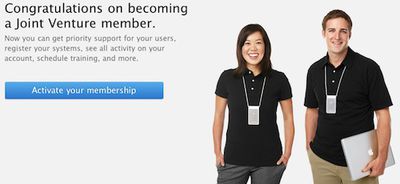 Earlier this week, we
noted
that Apple had prepped its employees for a rollout of a new support program known as "Joint Venture" targeting small businesses. The program has now
officially launched
and is essentially in line with what had been reported earlier based on retail store briefings.
Joint Venture is a program designed to help you use Mac, iPhone, and iPad to improve the way your business runs. We'll set up your new Apple products, train your employees to get the most out of them, and make sure everything stays working with dedicated support.
Coverage starts at $499 per year for up to five systems, with coverage for additional systems available for $99 per year each.
Apple advertises that the program offers a number of features, including setup of new systems with software installation and data transfer, as well as initial training to make sure users are ready to go. Ongoing training is also a key part of the program, with companies able to schedule up to three two-hour training sessions per year for their employees, working with Apple staff to customize the hands-on workshops to improve productivity. New employees can also take advantage of "Getting Started" workshops to make sure they're up to speed.
On the support side of things, Joint Venture offers "unprecedented access" to Genius Bar support, with telephone consultations, priority access to in-store appointments, and loaner notebooks (MacBook Pros and MacBook Airs) to keep things moving while machines are in for repair. Finally, businesses will have their own Joint Venture portal where they can access information on their systems and their employees can schedule support services.