Apple to Launch iMovie and GarageBand for iPad on March 11th
At today's media event, Apple introduced a revamped universal version of its iMovie application for iOS devices, bringing compatibility to the iPad for the first time. The company also unveiled a brand-new GarageBand application for the iPad. The new apps will be priced at $4.99 each and will be available alongside the March 11th launch of the iPad 2.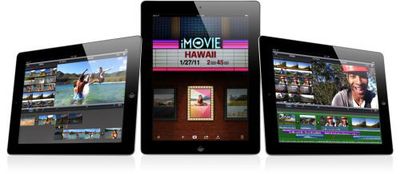 iMovie
allows users to shoot video directly from the iPad and have it appear right in the application for easy editing. With new themes and still photo support, users can easily drag-and-drop footage, photos, and text to quickly create high-quality video right on their tablet devices. With a Precision Editor built right into the timeline on the iPad, clip management is straightforward and simple.
Other new features include sound effects, audio waveforms, multiple audio tracks for easy voiceovers, and new tools for sharing to the web, among devices, and via AirPlay.

GarageBand
for iPad offers libraries of virtual instruments with both simple touch and more complex "smart" functionalities to allow users to sound like expert musicians with simple gestures. Recording studio functionality allows users to mix together various tracks, with various amps and effects to adjust the sound of individual instruments. The new GarageBand also includes a number of sharing tools to allow users to export their work via email or to their iTunes libraries. GarageBand for iPad is also compatible with the Mac version of GarageBand, allowing for easy movement of projects between devices.