MacBook Pro Rumor Wrap-Up: Winners and Losers
With Apple having released updated MacBook Pros yesterday, here is a look back at the some of the rumors that preceded the launch along with an assessment of their accuracy.
Winners:
- As long ago as last December, CNET reported that Apple would move even its smaller notebooks to Intel's Sandy Bridge platform, necessitating the use of Intel integrated graphics on the machines unable to utilize a discrete GPU for space reasons. Apple did just that with Sandy Bridge and with the integrated Intel HD Graphics 3000 serving as the sole graphics processor on the 13-inch model. The report also claimed that Apple would tap AMD for the graphics in the company's larger MacBook Pro, displacing NVIDIA as the GPU provider for the line, another development that did in fact occur in the update.
- Last Friday, a pair of Italian blogs, iSpazio and Slide to Mac, pinpointed Apple order numbers for the new machines, with one of them accurately claiming a release on Thursday or Friday of this week. Later that day, we confirmed that the launch would in fact take place on Thursday, Feburary 24th.
- On Sunday, CNET reported that Apple was expected to introduce a "new high-speed connection technology", referring to Intel's Light Peak standard, in the "near future". Light Peak did in fact make its debut in the new MacBook Pros under the name "Thunderbolt". Later that day, AppleInsider accurately reported that shipments were en route to resellers, with delivery set for early in the week. Best Buy also slipped its placeholder information into public-facing inventory lists.

- On Wednesday of this week, 24 hours before official launch,
fscklog
and
Mac4Ever
posted
photos
of specs from the box of the new entry-level 13-inch MacBook Pro, as well as shots of the machine itself. The sources of these shots were obviously resellers who had received Apple's shipments of the new machines and opened the packages early.
Losers:
- In early February, a Best Buy inventory screenshot appeared showing a new Apple notebook with a dummy SKU and an in-stock date of March 11th, but the update actually occurred more than two weeks ahead of that date. The evidence continues to suggest that Best Buy's inventory databases are an inaccurate source of information until shipments are actually en route to stores, as the company appears to use placeholders that are simply based on circulating rumors and guesses up until that point.
- Danish blogger Kenneth Lund claimed earlier this month that a reseller had informed him of a March 1st date for MacBook Pros.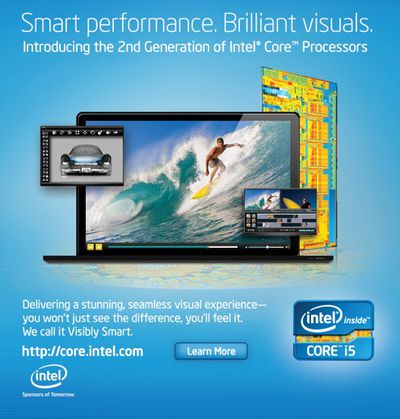 - An
Intel ad
published earlier this month sparked significant speculation that the notebook pictured was a leaked next-generation MacBook Pro. But as we noted at the time, the picture was simply a generic mockup and not related to any revamped MacBook Pro design.
- On Monday of this week, BGR reported that the new MacBook Pros would offer larger trackpads, a small SSD boot drive for system files, and reduced weight compared to the previous generation. None of the claims came true.
- On Tuesday, French site MacGeneration offered a list of claimed specs for the revamped MacBook Pro (repeating the hybrid SSD claim), with essentially none of these claims coming true with the exception of the "new technology" that had already been widely rumored to be coming as Light Peak/Thunderbolt.
Mixed Bag:
- In mid-December, DigiTimes predicted that Apple would update the MacBook Pro and iMac in the first half of 2011. While certainly not a stretch given that the previous update had occurred in April 2010, Apple did indeed easily meet this prediction for the MacBook Pro. The report claimed that Apple would launch "at least four" upgraded MacBook Pros, and the company did in fact introduce five standard configurations yesterday. The report also claimed, however, that the new MacBook Pros would ship with Mac OS X Lion. In addition, the report claimed that there would be a "slight change in chassis design", but the new MacBook Pros are for all intents and purposes identical to the previous generation.