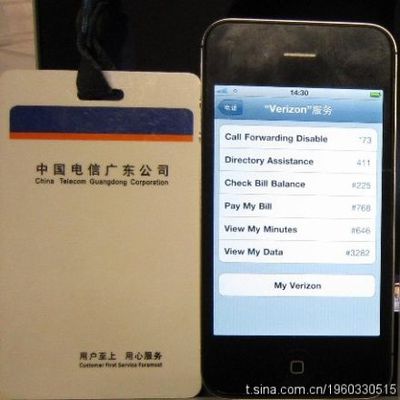 The Wall Street Journal reports
that employees of Chinese carrier China Telecom have successfully jailbroken and unlocked the CDMA iPhone 4, getting the device to run on the company's network.
Employees of the Guangdong branch of China Telecom teased users this week with a post on its microblog saying they were working on a way to crack Verizon Wireless' CDMA iPhone, suggesting users might be able to use the device on China Telecom's network.
A post signed the "Apple Lab Team" on the Sina Weibo account identified as belonging to the Guangdong branch of China Telecom said Tuesday the "CDMA iPhone 4 has made its first call in China" without a hitch. Preceding posts included a photo of a Verizon Wireless iPhone beside a tag labeled China Telecom Guangdong, then a photo of the device displaying the home screen for Cydia, a software application that allows users to find applications and software packages for jailbroken Apple devices.
China Telecom has reportedly been in talks with Apple to offer the CDMA iPhone 4 and a new report from Ticonderoga Securities analyst Brian White points to hints that a deal is probably coming sometime this year.
"The key takeaway," writes White, "is that the relationship between Apple and China Telecom is clearly moving in the right direction, and we believe that a deal will eventually be announced this year."
China Telecom currently has 90.5 million subscribers, putting it only slightly behind Verizon and AT&T in terms of total subscriber base.