Best Buy Mexico Planning iWork '11 Event for February 19th?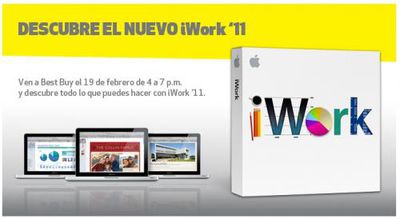 AppleBitch reports
that Best Buy's Mexican arm is advertising a
special in-store event
for this Saturday, February 19th, where users can visit stores to learn about how to use the "new iWork '11". iWork '11 of course has not yet been released, although
reports
from late last year had suggested that work on it was wrapping up and that it could debut early this year, possibly as a Mac App Store exclusive.
The webpage describes an event where you can "visit Best Buy on February 19th and find out what you can do with iWork '11". While this is obviously not an official announcement from Apple, this event is a good indication that iWork '11 is nearing release. We hope it is at least, otherwise there's going to be a fairly unhappy crowd at a Best Buy in Mexico on February 19th.
The iWork '11 event is currently listed on the front page of Best Buy Mexico, with the entry linking to the feature page with the broader description.

Update: The feature page and front page event listing have both been removed from Best Buy's site.