Apple Testing Three iPhone 5 Prototypes, One With Slide-Out Keyboard?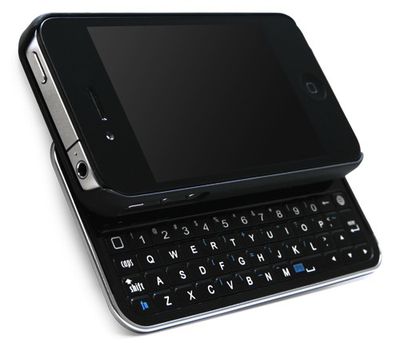 Keyboard Buddy Case for iPhone 4
Taiwanese site
Apple.pro reports
(
via AppleInsider
) that Apple has been testing three separate prototypes for the fifth-generation iPhone, including one with a slide-out keyboard.
There are three iPhone5 prototype
one is a sliding cover which
Is the introduction of the keyboard after the side cover
Other prototypes are said to be similar to the iPhone 4 except with an upgraded battery and apparently an 8-megapixel camera, up from the 5-megapixel sensor found on the iPhone 4's rear-facing camera. The report likens those prototypes to the transition from iPhone 3G to iPhone 3GS, with the same basic design augmented primarily by improvements in the device's internals.
As for claims of a slide-out keyboard, the rumor seems incongruous with Apple's devotion to multi-touch functionality with on-screen virtual keyboards. Normally, we would simply cast such suggestions aside, but Apple.pro has a strong track record of providing leaked information from Apple's product pipeline. Most recently, the site posted photos of a small Apple-branded touchscreen that appeared a few months later in the company's latest iPod nano.
The site also notes several times that these are prototypes, suggesting that the model sporting a slide-out keyboard could simply a design put together by Apple for the purposes of testing out various form factors, and may never be intended for a public release.
Today's report from Apple.pro also reiterates ongoing claims that the next-generation iPad will be thinner and will carry at least one built-in camera.