Nokia CEO Memo on Their "Burning Platform"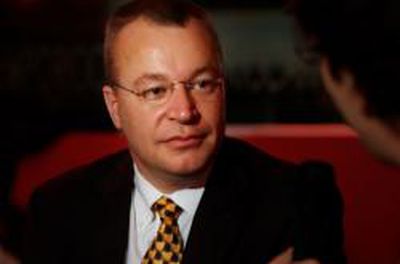 Engadget publishes a memo written by Nokia CEO Stephen Elop and posted to the company's employees about the fragile state of their business. The memo is surprisingly candid about the challenges Nokia faces with increased competition from the Apple iPhone and Google's Android. He compares Nokia's current situation to a man standing on a burning platform where the only choice is to shift from expected behavior and "jump".
Of the iPhone's entry into the market, he wrote:
In 2008, Apple's market share in the $300+ price range was 25 percent; by 2010 it escalated to 61 percent. They are enjoying a tremendous growth trajectory with a 78 percent earnings growth year over year in Q4 2010. Apple demonstrated that if designed well, consumers would buy a high-priced phone with a great experience and developers would build applications. They changed the game, and today, Apple owns the high-end range.
Elop acknowledges that even though the original iPhone launched in 2007, Nokia does not yet have a product that is close to that experience. While they have been working to innovate, they fell behind and missed big trends.
The battle of devices has now become a war of ecosystems, where ecosystems include not only the hardware and software of the device, but developers, applications, ecommerce, advertising, search, social applications, location-based services, unified communications and many other things. Our competitors aren't taking our market share with devices; they are taking our market share with an entire ecosystem. This means we're going to have to decide how we either build, catalyse or join an ecosystem.
Nokia plans on launching a new strategy on February 11th. Many are speculating that they may join an existing platform such as Windows 7 rather than continuing on their own.
The whole memo is a very interesting read on the disruptive nature of the iPhone on one of the major mobile phone manufacturers.